UMBERTO PIERSANTI - SELECTED POEMS
UMBERTO PIERSANTI - SELECTED POEMS - 1967 - 1994 - TRASLATED BY EMANUEL DI PASQUALE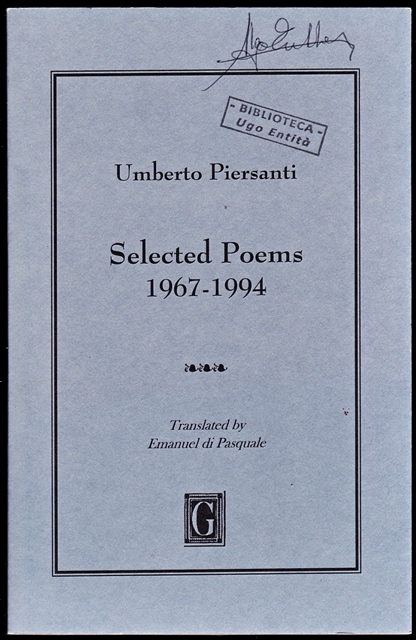 Piersanti is a narrative poet, in the ancient Italian tradition – his poems rich with a wisdom rarely found in contemporary American poetry. Deceptive simple, they are subtle poems that sing.
From the Introduction by Emanuel di Pasquale

Umberto Piersanti was born in Urbino in 1941. He is a poet, novelist, literary critic, and film director. His poetry books are La breve stagione (1967), Il tempo differente (1974), L'urlo della mente (1979), Nascere nel '40 (1981), Passaggio di sequenza (1986), I luoghi persi (1994), and L'estate dell'altro millennio (2001). He has written two critical volumes: L'ambigua presenza (1980), and Sul limite d'ombra (1989). With Fabio Doplicher, he edited the anthology of poetry Il pensiero, Il corpo (1986). He has made a full-length film, L'età breve (1969-1970); three poem-films, Sulle cesane (1982), Un'altra estate (1988), Ritorno d'autunno (1988), and four visual studies on four poets for RAI. He is editor of Pelagos, a literary review.

Emanuel di Pasquale's translations include books by Carlo Della Corte, Silvio Ramat, Milo De Angelis, Maura Del Serra, and Gabriela Fantato. In 1998 he won the Bordighera Poetry Prize foe his translation of Joe Salerno's Song of the Tulip Tree, and in 2001 was the recipient of the Raiziss de Palchi Fellowship. His most recent book of poetry is Escapes the Night (Gradiva, 2001).
UMBERTO PIERSANTI - MARINEO (PA) -  PREMIO DI POESIA CITTA' DI MARINEO 

FOTO SCATTATA DA UGO ENTITA' - ARCHIVIO  IPPOCRENE - proprietà riservata